Argentina has succumb to a 1-1 draw with Bolivia in the opening round of their Copa America campaign. The Argentinians have a lot of work to do before their next encounter with Columbia, especially going forward. It would look as thought the combination of strikers upfront hasn't been properly tweaked.
Argentina came into the match heavy favourites, even after their 6-1 loss to Bolivia in World Cup qualifying. Argentina went into the match with a formidable attack force comprising of Messi, Higuain, Milito, Aguero, Lavezzi, Tevez and Di Maria. To the neutral spectator, the squad would seem almost perfect. All seemed to be going to plan for the Biancoceleste, holding a majority of the possession in the early part of the match.
The first half remained scoreless, with Bolivia looking the more shaky of the two teams on the pitch. To their credit they hung in their repelling most of the lacklustre Argentinian attack.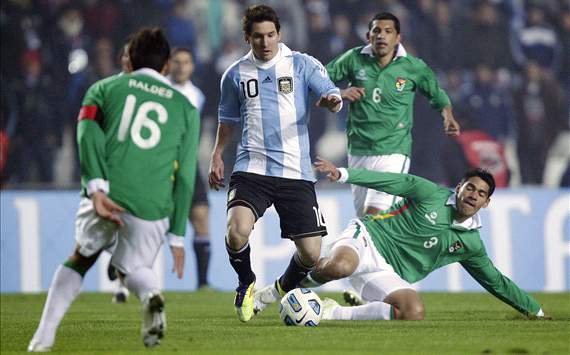 With the second half about to start, Argentinian manager
Gustavo Quinteros decided to introduce Angel Di Maria for Cambiasso in the hope that his side could salvage a goal. The Madrid winger made an impact on the game, but it was Bolivia who would score the opener, when Rojas cleverly slotted the ball home from a corner.
Shocked by the goal Argentina began to press with more urgency. Lavezzi drilled two shots wide and that marked the end of his game as he was substituted for Athletico striker Sergio Aguero. The man of the match had a sudden impact on the game. With 15 minutes remaining Di Maria played a ball in from the left, Inter fullback Zanetti controlled the ball, chesting it onto Aguero's foot. From there the striker hammered home a spectacular volley, which salvaged a 1-1 draw for the Argentinians.
The final 10 minutes were dominated by Argentina but they failed to put another in the back of the net. A disappointing performance from a side favourites to win the trophy, Messi failed to fire again, which raises the question can he play without his Barca team mates?
Man of the Match - Sergio Aguero
Final Score - Argentina 1 (Aguero 75) - Bolivia 1 (Rojas 48)