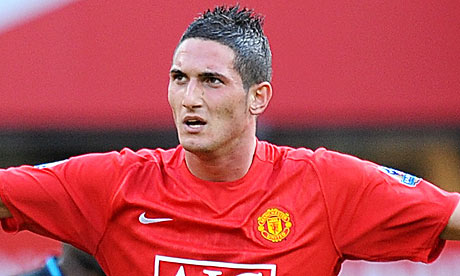 It is the dream of every footballer to one play for one of the biggest clubs in Europe. For Federico Macheda, it was just after his 16th birthday that he received a call to go over to Manchester, and play for arguably the biggest club in the world Manchester United.
There is no questioning this kid's ability (remember he is still only 19):
Top scorer in the U18's competition, averaging over 0.5 goals a game (12 goals in 21 appearances)
Hat-tricks in the reserve team (Manchester Untied 3:3 Newcastle)
Scoring a winner in the first team (Manchester United 3:2 Aston Villa)
Named Jimmy Murphy Academy Player of the Year at Manchester United
During his time at United, Macheda has represented his country on the International stage (Italy). Macheda has played for each of Italy's younger international squads, progressing from the U16's to the U21s where he has developed into a key player for the team.
In United's attempt to have Macheda learn about the game, he was loaned out to Sampdoria, who were facing relegation in Italy's top flight. Macheda was dubbed at the "replacement for Antonio Cassano." He was unable to score in any of the league matches he featured in, but did score a goal in the Copa Italia clash with Udinese, which saw Sampdoria win on penalties. Sampdoria did not maintain their spot in the Serie A and Macheda returned to United.
Earlier this week he scored two goals in a preseason match against the New England Revolution, perhaps proving that he may be an attacking threat for United this season. From what we have seen, Macheda may just prove to become one of the great Italian players ever to grace the field. He has certainly shown glimpses of his brilliance in the various matches he has played in. Funnily enough, his worst form came about in his very own country of birth with Sampdoria (in comparison to his form at United) so perhaps Manchester United is the place for Macheda to build a dynasty.
With the some of the world class forwards phasing out of Italy's international squad—Del Piero and Francesco Totti—due to age, perhaps this is the time for Macheda to get his chance in the International Men's Italian Side. He can develop partnerships with those filling their boots. After all, he will be around for a long time to come.