In the 1990 edition of the FIFA World Cup in Italy, a 38 year old Roger Milla shone as one of the tournament's greatest players. Despite perhaps being the oldest player in that particular tournament, he led the Cameroonian frontline scoring four goals in total while in Italy.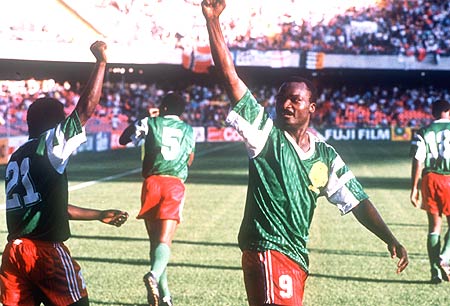 His two most important goals came against Columbia in the Round of 16 in extra time. Locked a 0 - 0 after 90 minutes of play, Milla managed to carry Cameroon into the quarter-finals by scoring two very important and crucial goals against the team from South America.
Showing grace and finesse, Milla managed to guide the West African nation for the first time in their history into the quarter finals, made more remarkable by the fact that it was the first time any African nation managed to reach this stage (which has thus been matched by Senegal in 2002 and Ghana in 2010).


Cameroon were subsequently knocked out of the tournament by England, loosing 3 - 2 at the end of the game.


Celebrating his goals by going to the corner post and dancing, it become the focus of a 2010 World Cup ad by Coca Cola.


Watch highlights of the incredible game and Milla's feats here: