By Paul Frederickson
There is a term that is often used by lateral thinkers, to 'think outside the box'. With the A-League competing against other codes and sometimes itself, the FFA, the A-League and the clubs have had to try and adapt to this very concept. In the past few weeks the talk of the A-League has centered on Harry Kewell and some of the possible clauses in his contract are definitely different to what we have seen in any Australian sport and possibly world football. Whilst Kewell would most certainly be a marquee player it is the terms of his contract that separate his marquee status from any that have come before him.
The Merriam-Webster online dictionary defines marquee as:
Marquee
adj
: having or associated with the name recognition and attraction of one whose name appears on a marquee:
big-name
,
star
&
marquee
athletes &
marquee
events; (1)
A-League marquees allow clubs to have one marquee player, one Australian marquee player and one junior marquee valued at $150,000.
Currently, most clubs have no marquee players, the Brisbane Roar is a prime example whilst others such as Adelaide United have Sergio Van Djik as their marquee and Perth Glory has Shane Smeltz. Fine players in the A-League but hardly what would be considered marquees for the competition. True marquees, it could be argued, should generate interest in the competition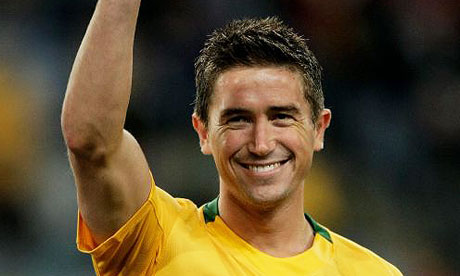 Harry Kewell at the age of 32 fits the marquee bill perfectly. Since the age of 16 Harry Kewell has been one of the biggest stars of not only Australian football but also Australian sport. He is a big name, big star, and star athlete. In my previous article we discussed the need for Australian footballers to return to the A-League and the possible benefits that would ensue. A fit and hungry Harry Kewell would undoubtedly create media interest, see extra supporters attend games and sell Kewell branded merchandise. This is precisely what Kewell and his manager are suggesting should be included in his contract.
It is suggested that if Melbourne Victory sign Harry that he will not be paid a traditional salary. Instead of being paid a marquee salary Kewell would be paid 80% of the new revenue that his signing generates for Melbourne Victory. Whilst the finer points of this contract have not been published the initial idea is quite revolutionary. There are so many questions that this type of contract presents: who determines what is considered new revenue? Why would Melbourne Victory agree to such a high percentage? Will the FFA sanction the contract? Will other clubs follow the trend? More importantly will Harry honor the contract if he does not make the money that he and his manager must think that they will make?
So my question is, 80% of nothing, is nothing right? That is the risk that Harry and his manager will be taking. If no new business is generated, which is unlikely, then he will not be paid by the Victory.
Melbourne must be confident that they have their man. Sam Lienert from Fox Sports Australia reported that;
"It's the first time we've admitted to negotiating with a player. That in itself tells you the significance of a signing like Harry Kewell," Victory chairman Anthony Di Pietro said.
Good promotion for the A-League and Melbourne Victory in this extended pre-season, and not a bad shop window for Harry Kewell if he is still intending to play away from Australia.
Whoever Harry Kewell signs with will be venturing into waters barely thought of in Australian sport. No matter what happens with Harry the box has been opened, and everyone is peaking out of it!
(1)

http://www.merriam-webster.com/dictionary/marquee?show=1&t=1308521616
(2)

Sam Lienert, "Melbourne Victory convinced they hold the aces as A-League battle for Harry Kewell's services hots up", Fox Sports, June 21, 2011.

http://www.foxsports.com.au/football/a-league/melbourne-victory-convinced-they-hold-the-aces-as-a-league-battle-for-harry-kewells-services-hots-up/story-e6frf4gl-1226079433398